Qualifications
National University of Singapore, School of Computing
Bachelor of Computing with Honours
Minor in Business Management
One of the top schools in the world for Computer Science
National Junior College
GCE 'A' Levels, straight A's for all Science subjects
Singapore's first and leading Junior College
International Certified Educator, Ozobot
Recognised by Ozobot U.S. team for extensive knowledge of teaching methodologies using the tiny smart robot, Ozobot, using innovative ways to introduce coding and computer science, and constantly sharing knowledge with other educators.
First and only Certified Educator in Singapore
Teaching Experience
Co-Founder & Lead Teacher, Loshberry Code Studio
Taught basic coding & computational thinking skills to young students from age 7 onwards
Developed the Loshberry Method that seamlessly integrates physical and on-screen activities to create a lively and effective learning experience
Worked with government agencies like IMDA and MOE schools
Spoke in industry conferences like EduTech Asia
Adjunct Lecturer
Lecturer at School of Computing and Media, Arts and Design School in a local Polytechnic
Lecturer for modules such as Front-End Web Development, Full-Stack Web Development and Python for Data Science
Teaching Assistant, NUS School of Computing
Undergraduate Discussion Leader for CS1010 Programming Methodology
Conducted tutorial sessions and graded lab assignments for freshmen students
Rated 4.2/5.0 for overall teaching effectiveness (against faculty average of 4.0/5.0)
Private Tutor
Tutor and mentor to students from Primary, Secondary, JC and Poly, in subjects including Math, Science, Computing, and other related subjects.
Mentor & Volunteer, GeekGirlMeetup / GirlsInTech
Provided pro-bono work in coding curriculum design and facilitation for initiatives such as mother-daughter coding workshops, provided mentorship to girls who are interested in the world of tech and startup through various speed-mentorship sessions.
Industry Coding Experience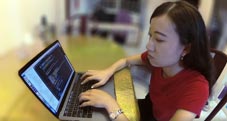 Web Developer, Independent
Helped various start-ups and companies with web development work, utilising web stacks like LAMP, MEAN and basic web technologies HTML5, CSS3, JS, Python, PHP, etc.
Developed utility website, checknric.com, with hundreds of monthly active users.
Programmer, Creative Team at a leading MNC
Developed e-learning modules and e-learning products using modern web technologies at a leading Management Consulting firm
Learning Design & Technology at a government agency
Integrated technology into traditional classroom environments
Developed technology for Applied Simulation games
Accolades
Facebook x Girls In Tech Singapore Hack For A Cause 2016 - Most User Friendly Award
Front-end designer / developer of the team, Hack Owls, which developed a Donor Management System for DaySpring, a voluntary welfare service to women and youth-at-risk in Singapore.
Emerged winner of the "Most User Friendly" award in the 12-hour event of 50 participants, 7 teams to develop solutions to help DaySpring overcome technical challenges.
NUS-SMRT Commuthon 2014 - Winner (Train Category)
Data / Business Analyst of the team, Urbanite, which emerged champion team under the Train category in the 3-day event of over 100 participants, 40 teams to improve commuter experience in public transport. Featured on major local media Strait Times, Zao Bao and Channel News Asia.